My boyfriend and I are trying something new here: honesty with each other.
Just like any relationship, there have been times of little (sometimes big) lies between us.
Sometimes, when you tell the truth, you get this pit in your stomach that falls out your ass to your feet; this rough amorphous mass that forms in your throat as you choke back tears.
The truth is frightening. And with that, all you want is to be absolved of your mistake and attempt to move forward. Keep that in mind as Imma bout to drop a truth bomb on ya.
And with that… I made this dessert back in January. Oh, I thought about lying. I had conjured up some whole foofoo sort of story about how "summer is coming along" and "nothing is fresher and better than orange cake in the summer!!"
Here's two things wrong with this:
Most oranges aren't even technically in season anymore and is it still really my blog if I fake a post??? Nope!! Half of the fun is sobbing over the mistakes, come on guys!!
But either way, yes we all know that oranges aren't really in season, but I'll be dammed if you find somebody who says no to a fucking orange dessert in the summer.
Why'd I make this cake? Because I was working from home only 4 days a week and WHATEVA SUCKASSSSSS!!! 💃💃💃
God, I miss those days. 😭 NYC I love u but you're killing me.
I had a weird hankering for this kind of cake, you see. It reminds me of family holidays, mostly.
The texture is a little strange to describe, I suppose. It's kind of similar textured (in the sense that it's moist) to an almond flour cake, due to the springy-ness of it. However, it's also really not very like an almond cake because it's basically all egg and sugar somehow being held together by the power of science and wizardry.
How much flour is in the cake, you ask? Well hon hon hon mon amie, two tablespoons. Yes yes that's not a typo
Two
Table
Spoons!!!
I wanted to make this cake only because of the massive fucking brain melt it gave me when I read it. Structurally speaking, how does it hold?? No idea. But if any of you baking scientists wanna help a bitch out, hmu.
The original recipe came from my mother's copy of some Portuguese cooking magazine. Check it out!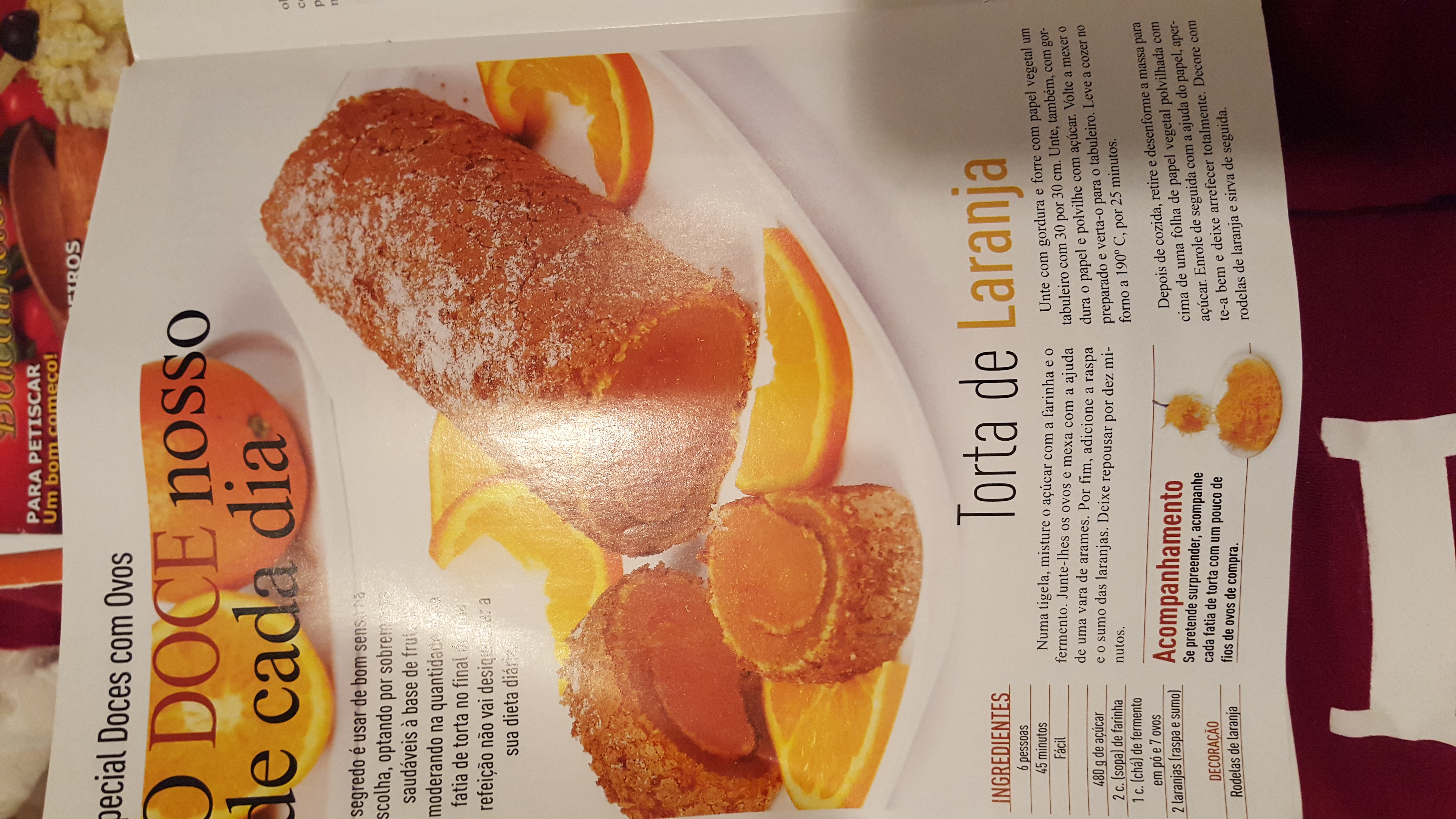 And instead of just using fresh cut oranges, because I like to be annoying and make a mess of myself, I made burnt candied oranges! They're supposed to have like bruleed sugar on them, but instead, they just got straight up toasted.
If you squint hard enough this is a very ham-fisted allegory of my life!
---
Orange Roll Cake
Serves: 6 people (??? How big are these slices, damn?)
Ingredients for Burnt Orange Slices
1 – 4 cups of water (depends on your pot size)
1 cup of sugar
1 – 2 Oranges
Instructions:
Start off by cutting up your oranges, or if you're like me, mauling the shit out of your oranges because you're an animal with shitty dull knives and no knife skills. Make sure so slice them as thinly as your sanity allows!!

Drop your soppy lumpy mess of a once living noble fruit into a small pot. Fill it up with just about an inch or so of water. You want the oranges to be covered and just have a little extra over it.

Start boiling the fuck out of it. Set it on medium high if you want. Go wild!! Once the water boils, let it boil for like 2 or 3 minutes, then pour all of the water out, keeping the oranges in the pot.
Repeat this shit like 3 OR 4 TIMES.
This is to remove the bitterness of the oranges and make them soft and squishy enough to eat. Not that anybody will. 😒

In the final boiling, pour in the whole cup of sugar, and put about a cup or so of water. Let it boil up until the water is glassy looking, and has that beautiful kinda sugary shimmer. There might be sugar bubbles sometimes. I dunno. Baking is beautiful and so is life, guys.

After it's started to boil, lower it to a super low simmer or the lowest setting you have. Kind of just let it slowly cook. Leave it like that for about an hour, with the lid on but tilted to let some steam out.

Pro Tip: like lol I'm no pro while this is happening, you can easily start baking your cake. Once your oranges have been in their hot sugar spa bath for an hour, scoop those fuckers out with a spider scooper and spread them out with your fingers on a Silpat (IT WILL BURN) so they can dry and not stick to each other. Let them cool off after their long day for at least 3 hours or best, overnight.
Note: if you're super impatient like moi, you can let them dry a little and then pop them in a 200°F oven until that shit dries up. Who got time to make things overnight?? Forreal, fuck.

When they're dried, sprinkle lots of sugar on them and torch them. If people tell you they're burnt, tell them it's aesthetics, bitches.

~~~~~~~~~~
Ingredients for Cake:

480 g (2 + more-ish cups) granulated white sugar
2 tbsp of flour
1 tsp baking powder
7 eggs
2 oranges (peels 'n' all!!!)

Instructions:

First, preheat your oven to 357F. In a stand mixer, combine the sugar, flour and baking power. Just kinda give it a quick stir then crack in yo' seven eggs, and beat it until it turns a sort of light orange, but not totally pale. It's like what carrot soup would look like if there were no carrots or soup for that matter.

Squeeze your two oranges and pour that juice in, pulp and all because you ain't a little bitch who's afraid of orange fiber. Beat it for 10 minutes more to assert your dominance as the alpha bitch u are.

Now get a jelly roll pan, because guess what we're making a jelly roll! HEYOOOOOOOOO!!
Oh and some parchment as well. You're gonna wanna cut the parchment paper to size, and then butter the shit out of that paper. Like Beyoncé say, "Best revenge is your (buttered) (parchment) paper."
I mean, when she speaks, it's the gospel truth, okay?

Sprinkle some sugar all over the butter, almost like if you were buttering and flouring a pan. Be heavy handed, it only makes this taste better, guys.

Pour all of the batter into the prepared pan, and bake it for like 25 minutes, or until it looks springy. While that cools off, get a kitchen towel and sprinkle a fuck-ton of sugar all over it. Turn the pan over onto the sugared cloth, revealing your cake with the parchment paper side up.
Peel that sucker off, and while it's still warm, start to roll it up with the help of the towel, slowly and tightly. It might get some tears. It's ok. Nobody is perfect, ilu anyway Unlike American / British roll cakes, nothing will be going in the middle, so DO NOT roll up the towel in the middle. Just roll the cake onto itself until it forms a nice little cake. Transfer to your plate, and decorate with your shriveled up oranges.

---

Oh and btw, I have a bloglovin' profile now, or something??
Follow my blog with Bloglovin
So clicky clacky away on that, and give my blog some lovin'. Whatever that means??

Giving the oranges a little hot bath. 😍


This is basically what a cake held together by nothing other than the magic of eggs and sugar looks like. Chunky and slightly weird.
like me?????


So like a total ass drama queen, I baked up this cake, and didn't even go to the party I was technically invited to. I was too busy playing video games and napping, so I had to avoid social obligations like show up to my mother's friend's Winter Whatever Jubilee party.

Don't get me wrong. I love the lady and her three kids. They're always so super fun, nice and warm. If I wanted to invite myself over and hang out with her kids short notice, not only would they take me with open arms, they'd hold my hand as we travel around the seedy city getting so super drunk that we get Big Macs with extra Mac sauce, and then talk about the biggest and best dicks we've ever seen until we fall asleep on the floor.

So ya know what? They can eat the whole cake! They deserve it.

But like the sweet cuties they all are, their mother saved me a piece and served it to me on her cute little heart plate. 💖

Sometimes that's all you need in life to remind you it ain't all that bad: leftover caramelized sugar orange cake and stale fries dipped in thousand ingredient sauces. 💖💖